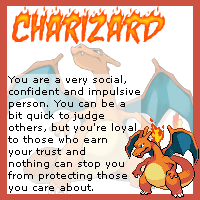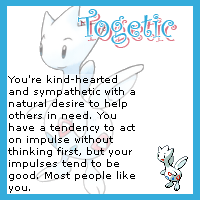 I'm just a girl who used to draw but now spends her time doing more important matters like going to college and working. I'm not as active on dA as I used to be, but I do enjoy coming on here from time to time to support various artists with common taste of interest. I'm slowly trying to get back into drawing; however, the greatest creations take the longest time to make.

Personal Quote: "If I'm shaking... that means I fucking loved it."




For 53 % you are: You are an Air bender! You very much value your freedom and dislike getting into a heated situation. Whenever beneficial, you try to elude unpleasant consequences and strive for a peaceful environment.
29.1924 % of 95744 Quiz participants had this profile! Profile A

You could also get this result:
For 20 % you are: You are a Water bender! You are very adaptive and rely mostly on turning your opponents' own forces against them. You're quite happy with many things that you have to deal with, even if they're usually unpleasant. Profile B

Or even this one:
For 13 % you are: You are an Earth bender! You are very rigid and hold your ground, even if your opponent is formidable. Most of the time, you're ready for whatever life has in store for you. Profile C

Or even this one:
For 13 % you are: You are a Fire bender! You are fierce and rely mostly on your own power. You have the talent of channelling your energy into achieving what you want, even if the goals are very lofty. Profile D
 

Take this quiz: What kind of Bender are you?